02/21/2022
Kick-Off Meeting
Image
JULY 2-3,  2019, PARIS, FRANCE
The Kick-Off Meeting of the new phase of the MediLabSecure project  was held on July 2nd-3rd 2019 at the Institut Pasteur in Paris, France.
Image
OBJECTIVES & CONTENT
The Kick-Off Meeting was the opportunity to officially launch the new phase of the MediLabSecure project with a presentation of its objectives and activities.
Gathering 110 participants from more than 25 countries (representatives from participating countries, partners, stakeholders and funder), this 2-day event successfully initiated the integration of the 5 new countries members from Sahel. It also allowed to introduce the 2 new components with the inclusion of the Veterinary Services in the network of Public Health officials, and the integration of environmental and ecological features in the development of emerging infections' risk assessment and early warning tools.
The meeting consisted in plenary sessions along with parallel sessions to discuss in details the foreseen activities. Other networking events, including also representatives from complementary EU-funded projects, were organized to stimulate and promote interactions with a One Health spirit.
In line with the CBRN CoE initiative, this meeting contributed to put the second phase on track for the next 3 years, to increase the project impact and empower its sustainability towards strenghtening preparedness against vector-borne diseases in the Mediterranean, Black Sea and Sahel Regions.
Presentations
Presentations given during this meeting are available  by clicking on the links below.
Day 1
- Lobna GAAYEB, Institut Pasteur, France: "MediLabSecure Project Overview"
- Lobna GAAYEB, Guillain MIKATY (Institut Pasteur, France), Miguel Angel JiIMENEZ CLAVERO (Instituto Nacional de Investigación y Tecnología Agraria y Alimentaria, Spain), Vincent ROBERT (Institut de Recherche pour le Développement, France), Silvia DECLICH (Istituto Superiore dI Sanità, Italy), Paolo CALISTRI (Istituto Zooprofilattico Sperimentale dell'Abruzzo e del Molise, Italy) & Guy HENDRICKX (AVia-GIS, Belgium) : "New phase of the MediLabSecure project"
- Adama GANSANE, Moussa GUELBEOGO (Centre National de Recherche et de Formation sur le Paludisme, Burkina Faso), Thérèse KAGONE, Dramane KANIA (Centre Muraz Research Institute, Burkina Faso) & Lamouni Habibata ZERBO (General Directorate of Veterinary Services of Burkina Faso): "Global multisectoral overview of Burkina Faso" (available soon)
 - Mohamed ABDELLAHI BOLLAHI (Institut National de Recherche en Santé Publique, Mauritania), Ali EL BOUKHARY (Nouakchott University, Mauritania), Mohamed Lemine HAKI (Office National de Recherches et de Développement de l'Elevage, Mauritania): "Global multisectoral overview of Mauritania"
- Djibo ISSIFOU (Ministry for Public Health, Niger), Rabiou LABBO (Centre de Recherche Médicale et Sanitaire, Niger), Adamou LAGARÉ (Centre de Recherche Médicale et Sanitaire, Niger): "Global multisectoral overview of Niger"
- Diawo DIALLO, Ousmane FAYE (Institut Pasteur de Dakar, Senegal), Modou Moustapha LO (Senegalese Institute of Agricultural Research, Senegal): "Global multisectoral overview of Senegal"
Day 2
During the second day, a real time feedback exercise was experienced using an online poll allowing to ask questions to the audience and receive their live answers to make the sessions more interactive. Results have been reported in the following presentations.
- Laura AMATO, Istituto Superiore di Sanita (ISS), Italy: "The survey on indicators for early warning and integrated surveillance"
- Maria Grazia DENTE, Istituto Superiore di Sanita (ISS), Italy: "The Multisectoral Risk Assessment Exercise"
- Guy HENDRICKX, Avia-GIS, Belgium : "Early warning tools and modelling, a newly added part to MediLabSecure"
- Michale EDELSTEIN, Chatam House, England: "Sharing the data and benefits of public health surveillance : why and how"
- Paolo CALISTRI, Istituto Zooprofilattico Sperimentale dell'Abruzzo e del Molise (IZSAM), Italy : "Early warning system, One Health approach", "Integration with climatic & environmental variables-web tools"
- Guy HENDRICKX, Avia-GIS, Belgium: "Introduction to technical workshop on Web-based Early Warning System (WEWS) : a first step towards a mediLabSecure early warning tool"
Image
Expertise Counters
To enhance networking and intersectoral exchanges during the meeting, an "expertise counters" session was scheduled during the lunch break of the second day.
During this activity, MediLabsecure work package leaders animated a counter to exchange on specific aspects of their work package. Besides, representatives from related EU-funded projects (STRONGLABS, MediPIET, Infravec2 and LeiShield-MATI) also participated in this interactive session to present their projects and explored possible collaborations with the audience.
All posters presented during this session are available here.
Image
VECTOR GAME
An icebreaker activity, mimicking a vector-host interaction, was scheduled during the meeting to welcome and facilitate exchanges between experienced and new members of the MediLabSecure network.
As a vector, the new MediLabSecure members from Sahel had to find a host to feed from their MediLabSecure previous experience by completing the form below. The first three "vector-host interactions" to bring back the complete form won the game.
Congratulations to the winners!
From left : Moussa GUELBEOGO (Burkina Faso), Habibata Lamouni ZERBO/OUERMI (Burkina Faso), Hafsa MADANI (Algeria), Adamou LAGARÉ (Niger), Lusine PARONYAN (Armenia)
Image
MOSQUITOES TOOLKIT
A toolkit containing mosquito factsheets developed by the medical entomology working group was handed to every participants from technical working groups. This educational and practical toolkit supports field work by providing an easy access to the characteristics of 10 different mosquito species (short description, distribution, transmission, vector surveillance, etc.)
Image
Keynote and round table: Middle East One Health Approach in early warning & preparedness for zoonoses
A training on entomology for non-entomologists was carried out on the fourth day of the Regional Meeting.
Alternating between small courses and practical exercises, this interactive one-day training on basic medical and veterinary entomology was addressed to all MediLabSecure people who are not specialist in entomology.
Image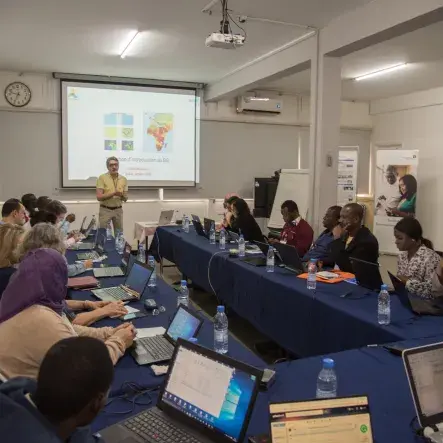 In parallel of the medical entomology training, the modelling/early warnins system working group (WP5) organized a one-and-a-half day training on GIS for spatial risk mapping and early warning. Designed and presented by Guy Hendrickx and Cedric Marsboom fromAVIA-GIS with the external support of Rafik Garni (Institut Pasteur d'Alger), this training was an introduction to an eight week distance learning course on GIS applied to epidemiology. It was also the beginning of a continuous GIS support to ensure that MediLabsecure representatives can use GIS in their professional activities related to disease surveillance and early warning. The main objectives of the GIS training are:
To gain expertise in the use of Q-GIS to create spatial risk maps
To establish a GIS group within MediLabSecure
To ensure that each MediLabSecure participating country has GIS capacity to support decision support for spatial disease risk assessment in a one-health context
Image
Charter of Values Collaboratives Design
All network members were invited to actively participate in the design of the MediLabSecure charter of values. The idea was to encourage and foster the network ownership and sustainability by collaboratively brainstorming on the values, aspirations and commitments that unite the network.
This workshop was tailored as a brainstorming session inspired from the MetaPlan methodology.
Participants were divided into 3 mixed groups (the groups were designed to mingle countries and working groups in order to favor collaboration and ensure representatives results). The same two questions were asked to the three groups, one question after the other, and they had to write their ideas on post-it notes, using one per idea. Altogether with the coordination team, post-its were read out loudly and organized according to their similarities into categories.
After the session, the coordination team worked to bring the results from the three groups together. A restitution of the results was made the next morning to the participants and noticeboards were created to summarize the different points The boards were displayed outside the meeting room and the participants were asked to "vote" for the nine items they considered most relevant They were given nine stickers they had to stick on the boards.
This exercise will be done with participants from each country of the MediLabSecure network. The first session will set the basis for the other Regional Meetings and the next brainstorming sessions will take into account the preliminary results of this one.